Sumter County was created in 1831 from a portion of Lee County and was named for General Thomas Sumter of South Carolina, a soldier of the French and Indian Wars as well as the American Revolution.
The Civil War Village of Andersonville served as supply depot for the infamous Confederate Prison Camp Sumter. The Village today is a thriving community with eateries, stores and is home to the Drummer Boy Civil War Museum. Visit the Village of Andersonville and Step Back in Time.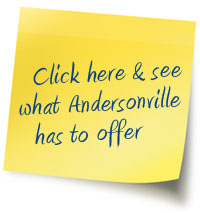 The town of Andersonville has won a Phoenix Award for Preservation, Conservation and Beautification. The site of the infamous Civil War prison camp that bore the community's name is in nearby Macon County.
Andersonville Cemetery
Andersonville Prison ceased to exist in May, 1865. Some former prisoners remained in Federal service, but most returned to the civilian occupations they had before the war. During July and August, 1865, Clara Barton, a detachment of laborers and soldiers, and a former prisoner named Dorence Atwater, came to Andersonville cemetery to identify and mark the graves of the Union dead. As a prisoner, Atwater was assigned to record the names of deceased Union soldiers for the Confederates. Fearing loss of of the death record at war's end, Atwater made his own copy in hopes of notifying the relatives of some 12,000 dead interred at Andersonville. Thanks to his list and the Confederate records confiscated at the end of the war, only 460 of the Andersonville graves had to be marked " Unknown U.S. Soldier."