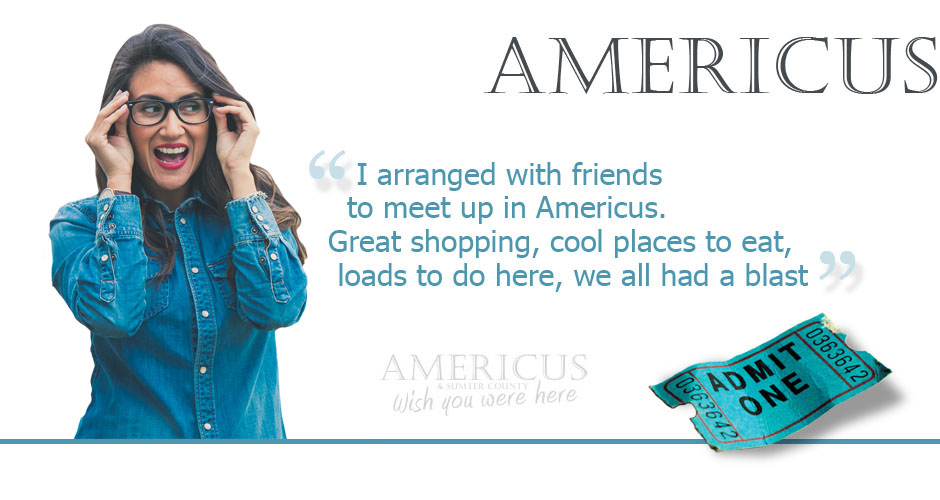 Search our website

Take a closer look
Rylander Theatre
Through the remarkable efforts of the City of Americus and private individuals, the theatre has reawakened and opened a new era of enrichment to the lives of residents and visitors in Americus, Georgia.
The theatre provides audiences with a glimpse into the past and into the future. Enveloped in the charm of an early 1900s vaudeville theatre is state-of-the-art technology to support live productions, corporate presentations, and conference activity.
The theatre offers regular tours of the facility, film and video presentations, live performances, theatre and organ concerts, and a host of local touring presentations.
Windsor Hotel
– Georgia's Victorian Secret
Crossing the threshold of the grand 1892 Windsor Hotel immediately gives the feeling that one has stepped back into the days of Queen Victoria, smoking jackets and corsets. The Windsor is an architectural wonder with an open three-tier atrium lobby of carved golden oak, marble floors, softly glowing chandeliers, and romantic Round Tower Suites. Savor the sophisticated Southern fare when eating breakfast, lunch, or dinner in the elegant yet casual Grand Dining Room.
Sip a cool mint julep or mimosa in a wicker rocker on the Veranda or in lively Floyd's Pub. A true Southern castle, the Windsor has hosted guests as famous as Franklin D. Roosevelt, as mysterious as a prince of Morocco, or as infamous as John Dillinger. The Windsor is the crown jewel of the large Americus National Register Historic District.
Habitat for Humanity International
– See Where This House-Building Ministry Started and Learn About Its Life-Changing Work Around the World.
Wherever you are in southwest Georgia, you are just a short drive away from the town where Habitat for Humanity International started and remains headquartered. Since its founding as a nonprofit, ecumenical Christian housing ministry in 1976, Habitat has partnered with more than 60,000 families to build simple, decent, affordable houses. Today, they are building houses and hope in every state of the United States and more than 50 other countries. Learn more about this exciting work with a Habitat tour in Americus, Georgia, the city they call home.
Charles A. Lindbergh
– Souther Field Airport.
The famous aviator, came to Americus, Georgia in 1923 to purchase his first airplane. Completing the purchase, he performed his very first solo flight departing from Souther Field. Today there is a statue of the aviator and a memorial at the present-day Souther Field Airport which is Open to the public. In 1917, Americus submitted its bid to provide an aviation camp to train pilots for the U.S. Army. Americus was later named as a location for a training camp for pilots and the contract for the construction of Souther Field was let on February 7, 1918. Work was begun on February 19th. The contract was let on the basis of cost plus 10 percent to J. B. McCrary Co. of Atlanta, GA, and the Hardaway Construction Co. of Columbus, GA. In 1918, Souther Field gave more flying hours than any field in the entire country and had quarters for 2,000 cadets. During the years just after WWI was over, there were a lot of surplus aircraft available for purchase. In 1923 Charles Lindbergh bought one of the planes still in a wooden box and assembled it with the help of some locals. He soon made his first solo flight and as they say, "the rest is history." In 1929, Souther Field was purchased by Sumter County. But it was not until 1940 that reconstruction of the field began in preparation for a new cadet pilot school to train U.S. and British pilots. The training facility was operated by Graham Aviation. This continued through WWII. In 1946, Sumter County again took possession of Souther Field for use as a civil airport to be operated by Graham Aviation and offering flying instruction to anyone. In 1948, South Georgia Trade and Vocational School (now South Georgia Technical College) was established on the historical campus. Some ten years later the local airport facility was relocated to the East of the original location and retained the historical name. In 2009, local officials made a decision to change the name of the facility to the Jimmy Carter Regional Airport.
Café Campesino
Visit Café Campesino and experience the best coffee you'll have in a long time. You'll know you're getting close by the fantastic aroma of freshly roasting coffee. As soon as you walk in the door you'll be able to savour wonderful coffee of the highest quality. Join Café Campesino which seeks to realize its vision by successfully importing, roasting, and commercializing only Fair Trade, organic, specialty-grade coffee and offering related products that reinforce our ability to deliver the Fair Trade message. By producing an exciting, positive experience for our customers, delivering consistently excellent coffee and related products, and providing enthusiastic customer service.
Thirteenth Colony Distilleries
Please come and visit us at Thirteenth Colony Distilleries which occupies a 44,000-square-foot facility at 305 North Dudley Street in Americus, Georgia. It is the only craft distillery in the state of Georgia.
Initially, the owners looked at several locations in South Georgia to locate the distillery. After much research, the final decision was made to locate the distillery in Americus, Georgia and we all love that here.
At Thirteenth Colony we are committed to:
Making handcrafted, small-batch distilled spirits of the highest quality at a good value for the consumer.
To distill and sell spirits in a manner that reflects and supports our philosophy of 'made by friends for friends
To treat everyone we do business with or encounter as friends.
Koinonia Farm
Koinonia is an intentional Christian community located just outside Americus, Ga. founded in 1942 by Clarence and Florence Jordan and Martin and Mabel England. Today's focus is feeding the hungry, both spiritually and physically. Koinonia continues to offer fresh pecans, all-natural produce, and other baked goods through its mail-order business, offers spiritually formative internships for those interested in exploring intentional community and social justice values, and is a leading example of regenerative farming using Permaculture methods. Koinonia continues the experiment in Christian living striving to be a demonstration plot for the Kingdom of God Visitors are welcome year-round, often coming for retreats or to help out around the farm.
The community's commitment to racial equality attracted national attention in the 1950s as they endured bullets, bombs, and a boycott. Well-known activists such as Martin Luther King, Jr. and Dorothy Day worked together with Koinonia during the Civil Rights Movement. Through it all, blacks and whites lived and worked together side by side in a time and culture where segregation was the norm and anything else could be met with violence and resistance. It was also at Koinonia Farm that Habitat for Humanity and Fuller Center for Housing began.